Doing work around the house yourself can bring a high level of satisfaction. That and the expected low cost makes homeowners tempted to perform a DIY repair on the roof. While there are a number of things that you can do around the house to save money, repairing your roof yourself is not one of them.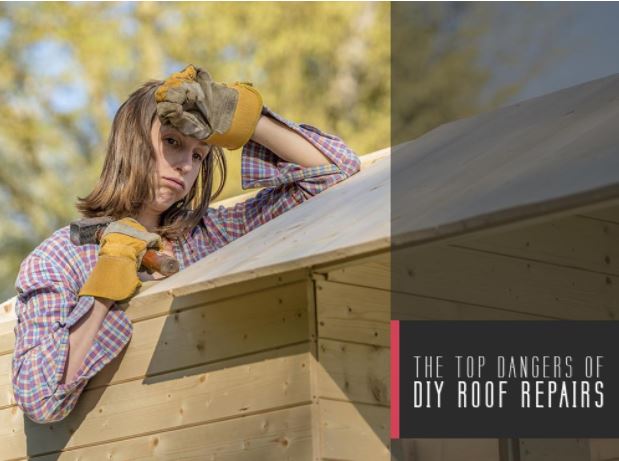 Nuss Construction Company, the leading home improvement expert, discusses why below.
Improper Repairs
Your roof has an important job: It must protect your family from the harsh effects of the elements daily. For that reason alone, it's important that your roof is always in excellent condition. If you notice problems on your roof and do not repair them properly, they can lead to extensive and expensive issues later on like leaks, mildew and mold that can damage your home's interior.
A professional has the necessary training and equipment to ensure flawless repairs. In fact, at Nuss Construction Company, we can even improve your roof's service life, so you won't have to replace it anytime soon.
Safety Concerns
Repairing your roof requires going up a ladder and staying under the hot sun for hours. Even if you only need to make small repairs, hauling heavy materials up a ladder and walking on your roof poses serious safety hazards. Unless you have the right training for this, it's best to leave the job to professionals, ensuring that you don't risk injuring yourself. When you turn to us for a roofing repair, we'll ensure the safety of all parties involved.
Voiding Warranties Most roofing products come with warranties that cover manufacturing defects and labor. These often include a fine print voiding the warranty if someone other than a qualified roofing professional performs any type of work on the roof. They do this to protect the roof from damage from a botched DIY repair job.
Aside from roofing services, we also offer replacement windows and siding to help maintain your home's energy efficiency and comfort. We strive to provide the best services in the area, so you can expect no less than exceptional results. In Medford and the surrounding NJ areas, turn to Nuss Construction Company for quality home improvement services. Call us at (856) 988-9982 to schedule your roof repair today. We'll even offer you a free estimate.