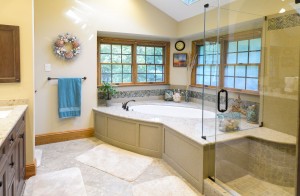 Updating your bathroom can add lasting value to your home. Local homeowners can turn to Nuss Construction Company for bathroom remodeling in Cherry Hill, NJ and beyond! Your bathroom is a high traffic area in your home, and if it is cramped, lacks proper storage, or if your fixtures aren't up to par, you could be missing out on the level of comfort a bathroom should provide. At Nuss Construction Company, we can take your less-than-perfect bathroom and transform it into a more comfortable, beautiful space. From floors, to fixtures, to cabinets and lights, our staff of experienced design consultants and contractors covers every aspect of your bathroom.
In any modern bathroom, functionality is key. You need your sinks, cabinets, fixtures, and lights to work at peak capacity for their full lifespan. At Nuss Construction Company, we install only the highest quality bathroom remodeling products available, and each product we install is designed to last through years of frequent use. When it comes to lasting value, we are the experts in bathroom remodeling that Cherry Hill, NJ residents turn to first.
Another vital aspect of a value adding bathroom remodeling project is the aesthetic appeal of the products being installed. When you turn to Nuss Construction Company, we are able to install beautifully designed aspects of your bathroom, such as cabinets, light fixtures, and countertops. From detailed tile work to hand-crafted wood, we have what it takes to truly customize your bathroom.
To learn more about our bathroom remodeling services, or general home remodeling in Southern New Jersey, give us a call or request a quote today!
Contact Us for a Bathroom Remodeling Estimate
Call the local experts at Nuss Construction Company today at (856) 988-9982 to schedule a no-obligation consultation on a bathroom remodeling project for your home.