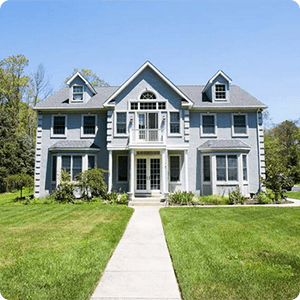 For those homeowners searching for their dream home, Nuss Construction Company offers custom home building. Whether you are tearing down your existing home to build a new one or breaking ground on a brand new property, we can put a plan, a design, and a project in place that will result in the home of your dreams. From detailed stone work, to custom designed doorways, to hand-crafted kitchen cabinets, our Cherry Hill, NJ area contracting experts can handle every aspect of your custom home, using only the very highest quality materials.
At Nuss Construction Company there is no custom home too big or too small for our expert staff to take on. We've built homes ranging from a 13,000 square ft. estate for former Philadelphia Eagle and U.S. representative Jon Runyan and his wife Loretta, to single family homes for local Southern New Jersey families. Our experienced design consultants work closely with each homeowner who turn to us for a custom home to ensure that their vision becomes a reality. Using a design/build approach, we begin to build each home as we design it, starting with the foundation and working our way up.
With a plan and design in place, our crews will begin to assemble your home, keeping you informed on every aspect of the project. Building a custom home is an undertaking, both financially and time-wise, but by sticking to our schedule and our plan we ensure that we finish our homes on time and on budget.
Whether you are looking to break ground on a new property or to tear down your existing home to build another in its stead, call Nuss Construction Company. We have the expertise and the local experience to craft your dream home.
Contact the Leaders in Custom Home Building in Cherry Hill, NJ and the Surrounding Area
Call the local experts at Nuss Construction Company at (856) 988-9982 to schedule a no-obligation consultation on a custom home project.