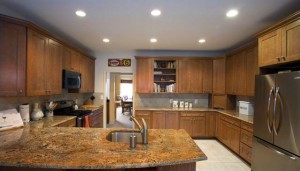 Nuss Construction Company has a 20-Step Kitchen Remodeling Process that covers everything from flooring and lighting to kitchen cabinets for Cherry Hill, NJ area homes. It is through sticking to this process, making it a step-by-step guideline to each project we undertake, that helps us to always finish on time and on budget. We believe this process is one of the biggest reasons we have become the leading choice in kitchen remodelers in Mt. Laurel, NJ and throughout the surrounding area.
Look through the process to get an idea of what to expect when you turn to Nuss Construction Company for our kitchen remodeling services.
Submit necessary permit paperwork to municipality.
Request certificate of insurance be sent to client.
Order cabinets, fixtures, and other items with long lead time.
Write job schedule allowing for lead times and inspection schedules.
Hold pre-construction meeting with client to review all aspects of construction process.
Secure dumpster for job debris removal.
Protect adjacent areas as needed.
Remove existing fixtures and finishes.
Re-frame walls and ceilings and relocate door and window openings as specified.
Relocate plumbing and electrical rough-ins as specified in contract.
Install insulation and drywall as specified.
Install kitchen cabinetry and millwork; template for counter tops.
Install tile or hardwood flooring.
Install counter tops and tile backsplash.
Paint all drywall and millwork.
Install appliances and all final plumbing and electrical.
Call for final inspection from township building department.
Final job Clean up and debris removal.
Remove any excess material, dumpster, and job sign.
Enter job in company schedule for one year check-up.
To learn more about our process, give us a call or request a quote today.
FREE Estimate on Kitchen Remodeling in Cherry Hill, NJ
Call the local experts at Nuss Construction Company today at (856) 988-9982 to schedule a free, no-obligation consultation on a home improvement project for your home.