Your home is your family's headquarters. When you embark on a home improvement project, your home becomes a temporary construction zone. Nuss Construction Company understands this and works with you so your home and family activities can continue uninterrupted as much as possible during a project.
Best Construction Company in New Jersey
For more than 50 years we've helped Southern New Jersey families get the most out of their home improvement project investment. We consider ourselves one of the best construction companies in New Jersey based on our wide set of services, happy customers and decades of service to Southern New Jersey homeowners. Not every contractor works like we do. Don't settle for less. Your home and family deserves better. You'll not only be happy with our final product…you'll also appreciate the attention to detail we take every step of the way…and that is the Nuss Construction Company Difference. Below are just a few of the standard practices that set us apart from other contractors. To learn more about The Nuss Construction Company Difference, call us at (856) 988-9982.
Floor & Door Jamb Protection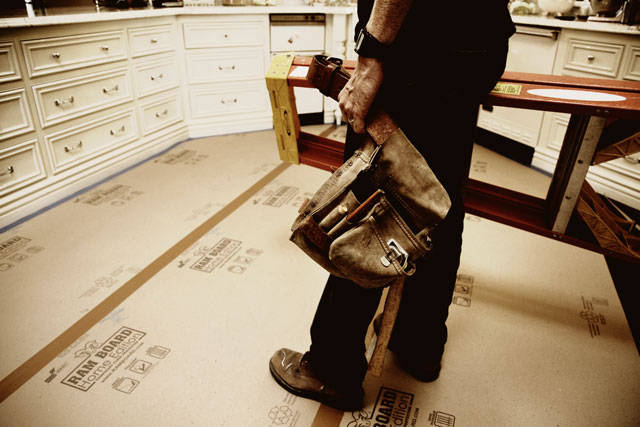 Temporary floor protection is used to project your home while we are inside. The floor protection we use protects against water, paint, mud and more. Our floor protection covers many different types of flooring such as concrete, wood, tile, stone, linoleum, vinyl composition tile(VCT), epoxy to name a few. In addition, we also use heavy-duty, flexible door jamb protection that snaps into place without the need for tape or adhesives.
Dust Walls
When in your home we are going to work. Creating a barrier between our work area and the rest of your home is important for us to do our work as well as important to you so your family can be uninterrupted by our work. To accomplish this, we erect dust walls or panels that quickly and easily zip together to build a dust barrier for any part of your home. Zippered access is built right in, and the panels allow us to put a door where needed. The dust walls are easy to use, more economical, and greener than plastic sheeting.
Dust Air Scrubber
A fan, plastic sheeting and a vacuum cleaner are what most contractors provide. That's not enough for Nuss Construction Company home improvement projects. The best contractors can capture and virtually eliminate remodeling dust using tools like dust control systems from companies like BuildClean.
BuildClean is different than common dust barriers. This innovative dust control system eliminates 90% of airborne dust (based on results from a study by an independent industrial hygienist), providing a healthy, clean environment while keeping cleaning costs low.
Get an Estimate on Your Home Remodeling Project
So when the time comes for your next home improvement project, take advantage of The Nuss Construction Company Difference. Treat your family right and get the most out of your home improvement investment dollar. Call the local experts at Nuss Construction Company today at (856) 988-9982 to schedule a consultation on a home improvement project for your home.