When you need kitchen remodeling in Mt. Laurel, NJ or any of the surrounding areas, you can turn to Nuss Construction Company for top quality service, products, and warranties.
We recently visited the Highbridge development of Medford, NJ and remodeled this 1992-built home's original kitchen, gutted it to the studs, changed the layout, installed Cherry cabinets from Wellborn, granite countertops, Kohler stainless steel sink, Kohler touch-less pull down sprayer kitchen faucet, LED under cabinet lighting, LED recessed lighting, porcelain tile floors, WOLF cook top and range hood with downdraft venting. We can easily do the same or something similar for your New Jersey kitchen.
For more than 50 years Nuss Construction Company has been a leader in the Southern New Jersey remodeling industry. We have gained a deep wealth of experience and expertise in the renovation of kitchens in the Southern New Jersey area. Our past clients are to thank for our stellar rating by the BBB and great reviews on Angie's List, and their continuous business and positive feedback are a testament to the true quality of our home remodeling services.
As with all of our services, we are always seeking to improve the methods and materials we use for kitchen remodeling. We believe that our area deserves a contracting company that does superior work, and no other local company can match the beauty and functionality of a kitchen that has been renovated by our experienced staff.
From floors, to fixtures, and everything in between, our expert contractors will work with you to design your dream kitchen. We will utilize the maximum space available in order to lay out a design that fits the needs and wants of your family.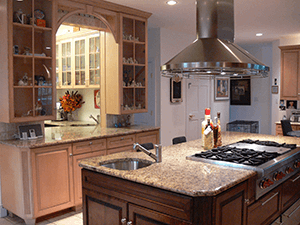 For homeowners thinking about selling their home, remodeling your kitchen will immediately add to your resale value. In and around Cherry Hill, NJ, kitchen remodeling is an aspect that prospective homeowners are looking for, wanting to ensure that they are getting the best home for their money. When you choose Nuss Construction Company, you'll work with more than 50 years of experience in the successful renovation of Southern New Jersey kitchens. We know precisely what it takes to add lasting value to your home.
To learn more about our kitchen remodeling services, give us a call or request a quote today!
Contact Us for an Estimate from the Leading Kitchen Remodelers in Southern NJ
Call the local experts at Nuss Construction Company today at (856) 988-9982 to schedule a no-obligation consultation on a kitchen or bathroom remodeling project for your home.