Many homeowners are gaining interest in home improvement these days. Continuous advancements in the industry have made home improvement projects more appealing and the accessibility of products and materials are encouraging many property owners to start different types of "do it yourself" (DIY) projects. For instance, adding kitchen cabinets to your Cherry Hill NJ home might sound like a project worth tackling yourself, but getting an expert to do it is actually easier and most likely a better use of your time and money.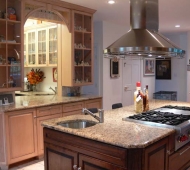 A professional home remodeler can provide you an expert opinion and options that are best for your overall goals and investment. Some projects are simply not recommended to be done on your own. Here are four such projects.
Roofing
Your roof is a complex structure that plays a crucial role in your home. A well-maintained roof can keep you and your family protected from the elements while enhancing the visual appeal of your home. That's why we do not advise making roof repairs or replacement on your own. Climbing up onto your roof is too dangerous. It is too easy to slip and fall. Most homeowners do not have the right equipment which further increases the chances of accidents and poor workmanship. It's best to leave any roofing project to an expert.
Windows
Another part of your home that is not suitable as a DIY project is your windows.
Your windows can enhance the energy efficiency of your home. They do a great job in letting in natural light and ventilation while increasing curb appeal. If you are planning to put your house on the market soon and want to install new windows, it's best to contact a trusted, local window contractor. New windows are an important investment, so it's best to make sure you're getting the right ones for your home and that they're installed properly.
Kitchen
Your kitchen is perhaps one of the most visited areas in your home. It's understandable that you may be eager to put a fresh coat of paint on your walls or remove old wallpaper. But before you do anything on your own, consider the cost. Will this be your first time to work on your kitchen? Are you ready to do something you've never done before? No matter how outdated your current kitchen may look, it is important to plan your kitchen makeover first. At Nuss Construction Company, our kitchen remodelers have served customers in Mt. Laurel NJ and the surrounding area and can take care of your needs from floors to fixtures and everything in between.
Bathroom
If you are the type of person who enjoys a comfortable and luxurious bath area, particularly your shower and tub, then you would enjoy a bathroom makeover. Sure, you can add a couple of things like new shower curtains or matching towels, but if you want to truly update your bathroom, ask a professional remodeler to give you an estimate and ideas on how to make the most of your remodeled bathroom. You'd be surprised at how much of a difference an expert upgrade can make.
At Nuss Construction Company, we believe that every home is unique so it deserves a customized transformation. We specialize in kitchen and bathroom remodeling but we also offer general home makeover services. If you are ready for an upgrade, just give us a call at (856) 988-9982 today.